vi·sion·ar·y· noun · (from Latin "one who see") someone who is able to imagine how a thing should be and strives to make it so.
The Visionary is appointed by Vista each month as recognition for seeing a need in the organization and taking initiative to satisfy it without being prompted. This team member goes above and beyond their daily responsibilities and does so with an outstanding attitude. This month, Amy Versluis one of our order management specialists was nominated by Melissa Scheidel, our Dell Product Manager, along with our Order Management Team Lead, Erik Palma.
Amy started with Vista back in 2010 and worked in the warehouse until this past January when she had the opportunity to make the move to Order Management. Not only was Amy a great asset in the warehouse, but she is clearly bringing the same talents to her new role here within Vista.
"I nominated Amy because she has been quick to learn the order management position, always looking for ways to make things better, and is always willing to help out in any way possible. She's a great addition to the order management team and we are lucky to have her." – Melissa Scheidel
"Amy is one of the most focused and hardworking people I have ever been around. She has hit the ground running with her new role in Order Management and is always wanting to learn more. Amy is never shy to jump in and help and will often assist other departments when they are shorthanded or slammed." – Erik Palma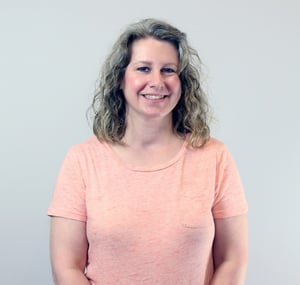 Amy Versluis
OM Specialist
9 Years
"What it means to me to win the Visionary award is that people actually appreciate what I am doing every day. Working in a new position, I feel like I am taking longer to perform tasks and asking multiple people questions daily. I feel better knowing that people are not frustrated by me asking so many questions to make sure my job is done properly. It gives me confidence that I can be as effective with my job in Order Management as I was when I was in the warehouse."
Amy is from Lake Odessa and commutes every day. In her spare time, she volunteers at Mackenzie's Animal Sanctuary and spends time with her family.