vi·sion·ar·y· noun · (from Latin "one who see") someone who is able to imagine how a thing should be and strives to make it so.
The Visionary is appointed by Vista each month as recognition for seeing a need in the organization and taking initiative to satisfy it without being prompted. This team member goes above and beyond their daily responsibilities and does so with an outstanding attitude. This month Ashley Adair, one of our receiving specialists was nominated by two of our Product Managers, Jesse Budrick and Melissa Scheidel.
Melissa and Jesse, Why Did You Nominate Ashley?
"I chose Ashley because without asking she is going above and beyond the call of duty. Ashley has taken it upon herself to help the HPE team with a complete audit sheet for the pile in extras. She is approachable and is doing a great job in my opinion." - Jesse Budrick
"Every time I come in the back Ashley has a smile on her face, welcomes me to the warehouse, and is more than willing to help in any way that she possibly can. She even went through 30 servers to help me locate a system board and updated my spread sheet for me. She is such a breath of fresh air." -Melissa Scheidel
What does the Visionary Mean to You?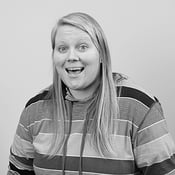 "I came from a very corporate place and here it is completely different. We do a lot of cool culture events and I love the high energy environment. Winning the Visionary gives me a sense of pride and I have always been a firm believer that hard work and dedication goes a long way. We are all here to work toward the same common goal and It feels great knowing that the work I have done here has not gone unnoticed."
Ashley Adair
Receiving Specialist
Six months
Ashley has been with Vista since September. She is originally from the Jackson area, but lived in Chicago for three years prior to moving to West Michigan. Although her title is Receiving Specialist, Ashley also helps with shipping, and packing orders. When she is not at work, Ashley and her spouse like to be outdoors, hangout with their dog, spend time at the casino, participate in Sunday brunch or have sushi Sundays.