vi·sion·ar·y· noun · (from Latin "one who see") someone who is able to imagine how a thing should be and strives to make it so.
The Visionary is appointed by Vista each month as recognition for seeing a need in the organization and taking initiative to satisfy it without being prompted. This team member goes above and beyond their daily responsibilities and does so with an outstanding attitude. This month, Ashley DeBoer our Marketing Specialist was nominated by our Marketing Director, Staci Bryant.
"I nominated Ashley because Ashley is an icon of what Vista
stands for. Her commitment to our vision and her dedication to the team are just part of what make her such a valuable member of the team. She is always willing to step in, take on new projects, and keep them moving forward. Ashley is someone who doesn't just walk by a problem, but takes action to correct it, even if it's not "her job" – and, she does it cheerfully! This ownership mentality makes her a highly sought-out resource within the company. If anyone deserves to win the Visionary Award - not one, but three times - it's Ashley." – Staci Bryant
"Winning the Vista Vision award for the third time feels very rewarding and validates that what I do every day is not going unnoticed. I am honored to be recognized by my piers repeatedly. It motivates me to continue working hard every day."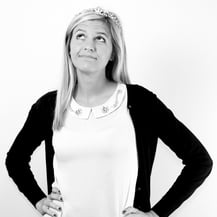 Ashley DeBoer
Marketing Specialist
6 years
Ashley started with us back 2014 as a Marketing Assistant and since then her role has evolved into Vista's Marketing Specialist. She is responsible for creating content for our website, helping design marketing collateral, create market lists and email promotions. Outside of all these daily responsibilities, she is also head of culture and assures office events run smoothly. Ashley is from Grand Rapids and attended Grand Valley State University. In her spare time, she likes to spend time with her family, travel, and go wine tasting.