vi·sion·ar·y· noun · (from Latin "one who see") someone who is able to imagine how a thing should be and strives to make it so.
The Visionary is appointed by Vista each month as recognition for seeing a need in the organization and taking initiative to satisfy it without being prompted. This team member goes above and beyond their daily responsibilities and does so with an outstanding attitude. This month, Ben Nitz one of our Warehouse Specialists was nominated by Jay Serna, a Sales Team Lead and Jeff Stevens, our President.
"I nominated Ben because he didn't hesitate to hop in a car with me to drive over an hour away to help load up a large customer buy, he could have easily waited at Vista and dealt with the mess when I showed up with all of the equipment. He does a great job at seeing a task through from start to finish." – Jay Serna
"Ben Nitz is such a valuable asset to the organization, and I cannot say enough positive things about him. He brings such a wealth of knowledge to the receiving role that makes him irreplaceable." – Jeff Stevens
"I love working at Vista IT Group! I'm surrounded by Sales and Operations team members that are all focused on taking care of our customers. It is a very rewarding environment to be in and I look forward to coming into work every day because of it."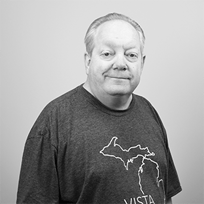 Ben Nitz
Warehouse Specialist
22 Years
Ben is from Croton, Michigan and right out of high school he enlisted in the Navy where he served for four years. After returning to Michigan, Ben worked as a computer engineer for seven years. In 1993 Ben joined us as one of our technicians and stayed in the role until 2016, which is when he made the move back to the warehouse. Now been lives in Rockford with his wife and daughter and handles everything from shipping, receiving, and logistics out back for us.