vi·sion·ar·y · noun · (from Latin "one who see") someone who is able to imagine how a thing should be and strives to make it so.
The Visionary is appointed by Vista each month, as recognition for seeing a need in the organization and taking initiative to satisfy it without being prompted. This team member goes above and beyond their daily responsibilities and does so with an outstanding attitude. This month, Cory Codere, our receiving specialist was nominated by our warehouse manager, Paul Morgrette.
Why was Cory nominated?
"We don't have a very big department, so it's important that we work together as a team every day. Cory is an absolute rock star and is eager to learn different areas of the business. What I really appreciate is that he is always willing to help in every area of the warehouse and we can trust him to do the right thing to finish any task in a timely manner without any complaints. We are extremely lucky to have him on our team." – Paul Morgrette
What does the Visionary mean to you?
"Winning the Visionary means that my hard work and dedication is benefiting the company and my coworkers in a positive way. I am very thankful to work in an environment with so many good people that are all trying to better themselves, the people around them, and all accomplish something great together."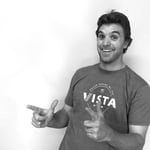 Cory Codere
Receiving Specialist
1.5 years
Cory was born and raised on the east side of Michigan. He spent eight years working as a golf pro in Florida before moving back to Michigan to be closer to his family and change professions. Although Cory helps in every aspect of the warehouse, his main area of expertise is warehouse operations logistics where he pulls orders, stages orders to technical, and brings the orders over to be shipped. In his free time Cory likes to golf, play hockey, and hangout with his family.