vi·sion·ar·y· noun · (from Latin "one who see") someone who is able to imagine how a thing should be and strives to make it so.
The Visionary is appointed by Vista each month as recognition for seeing a need in the organization and taking initiative to satisfy it without being prompted. This team member goes above and beyond their daily responsibilities and does so with an outstanding attitude. This month Ericka Braley, our finance manager was nominated by Dani Montgomery, our HR Coordinator.
Why Did You Nominate Ericka?
"I feel Ericka always works hard to get the job done and goes above and beyond the call of duty, typically working hours of 7:30am -5 or 5:30pm, as well as weekend project work. She is a very dedicated employee but she has been instrumental the last couple months with regard to reading, deciphering, brainstorming with me on the legislature involved with COVID and how it plays into not only financials but payroll as well. I appreciate having her additional eyes on these programs and her mind-blowing EXCEL skills. Sitting in the office with her, I see firsthand the number of people coming to her for advice on handling various scenarios from sales to PM to OM. Not to mention Jeff popping in with requests to see data this way or that way on the fly and she magically produces over and over. She never pushes co-workers off, rather will break what she is working on to address their needs. I know she's only one of the many great employees we have, and I could be mistaken, but I feel it has been awhile since I have seen her recognized as a "visionary" employee." – Dani Montgomery, HR Coordinator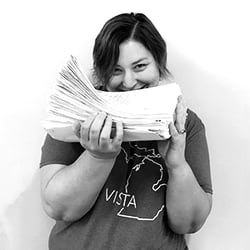 What does the Visionary Mean to You?
"Winning the visionary means that I am doing everything I can be doing to make sure Vista performs better because of my presence. I am honored to win this award for a second time" – Ericka Braley – Finance Manager
Ericka Braley
Finance Manager
8 Years
Ericka is from Lowell, attended the University of Phoenix, and started with Vista back in July 2012. In her spare time she likes to hang out with her two kids and watch Marvel movies.