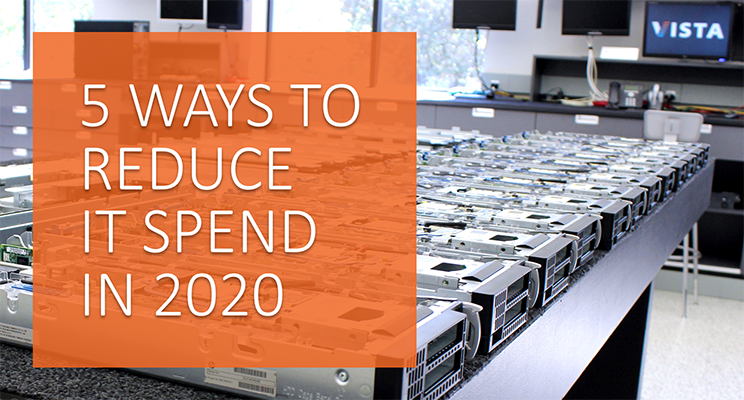 I recently read an article from Gartner on how to reduce IT spend. Although, they had some great points, I think they missed a mark on a few key way to save money. Today, IT budgets are being pinched, and many companies are asking their IT Departments to do more with less. To help with this ongoing challenge, here are five ways to stretch your IT Budget:
Look outside your normal sourcing channels -

You are more than likely just going through the motions, buying from your normal IT provider, and not looking at other options. Did you know though that each manufacture has a "like-new" play that comes with a full manufacture warranty? You might be surprised that

HPE

and

Dell EMC

both have offerings where the product is not new, but they still put a full 3YR 9x5 warranty on the hardware with the option to upgrade to 24x7 support.
Build it Out -

Instead of adding more physical servers, build out what you currently have by upgrading the memory, CPU's, networking cards, and hard drives. Sometimes just adding to what you have can get you by until you have more money in those budgets to add more servers.
Put money back into your budget -

Look at what you are not using, or what you are looking to replace. Sometimes, there is

money

there. If you just replaced a few servers, or a storage array, see if you can sell it off and get some extra money. Most companies will offer you, cash, credit, or trade in value.
Self-Spare -

If you have mission critical applications and servers that cannot afford downtime, buy a few extra HDD, memory DIMMS, or PSU. That way if you have a predicted failure you have one ready to go that you can plug in right away and save the frustration of having a critical application go down.
Look at third party maintenance -Third party maintenance is half the cost of manufacture support. Typically, the service and response times are better than dealing directly with the manufacturers.
If you want to know more on how to get more from your IT budget, please reach out and give me a call today at 616.281.5000 x207.