vi·sion·ar·y · noun · (from Latin "one who see") someone who is able to imagine how a thing should be and strives to make it so.
The Visionary is appointed by Vista each month, as recognition for seeing a need in the organization and taking initiative to satisfy it without being prompted. This team member goes above and beyond their daily responsibilities and does so with an outstanding attitude. This month, Ivan Ewing, one of our technical specialists was nominated by not one, but multiple people.
Why was Ivan nominated?
"Vista has a very diverse supply chain. One benefit is that we're able to source equipment much faster than most of our competitors. Once the product comes into our facility, we perform rigorous testing to verify authenticity and ensure quality. We only want the best…for our inventory and our customers.
We recently purchased about $150,000 of memory from a new vendor. About half the memory was going towards fulfilling an order and the other half was going to inventory. Unfortunately, during testing Ivan saw some red flags and determined that the memory did not meet Vista's quality standards. Thanks to our testing procedures and Ivan's quick actions, we were able to find a different supplier and fulfill our customer's order without a delay. We also recovered the cost of the original memory. It was an all-around win." - Rob Rowe, Technical Services Director
"Ivan was a huge help to me when I started at Vista. I had just graduated and didn't have a background in enterprise-scale technology and data-centers, but Ivan put himself in my shoes and was able to take something complex and really help me understand the concepts. He is still someone I rely heavily on today." - Cassie Marshall, Account Manager
What does the Visionary mean to you?
"Winning the Visionary award is validation from my employer and coworkers that all the extra things I do to try to make the company better is appreciated. I enjoy what I do, but I don't like to just follow the basic guidelines of my job description. I like to improve not only my area but appreciate being encouraged to help improve other areas in the company as well."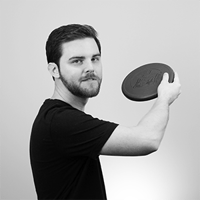 Ivan Ewing
Technical Specialist
Seven months
Ivan is originally from Pentwater, MI and moved to Grand Rapids last June. He received his bachelor's degree in Digital Arts and Design from Full Sail University in Winter Park FL. With Vista since October, Ivan helps with Product Assessment, Technical, SOP Creation as well as setting up and running our Vanguard Warranty and Support process. He also assists the marketing department with filming projects. When not at work, Ivan enjoys traveling around to state parks with his dog as well as taking pictures with both standard cameras and drones.