vi·sion·ar·y· noun · (from Latin "one who see") someone who is able to imagine how a thing should be and strives to make it so.
The Visionary is appointed by Vista each month as recognition for seeing a need in the organization and taking initiative to satisfy it without being prompted. This team member goes above and beyond their daily responsibilities and does so with an outstanding attitude. This month, Ivan Ewing our Support Services Team Lead was nominated by our General Manager, Steve Taylor.
"Ivan's calm, organized, and tactical approach to his job shines the brightest when the stakes are the highest. There is never a question about the quality or thoroughness of his work and his positive attitude is contagious. Ivan is a true asset to Vista!" – Steve Taylor
"I am honored to be awarded the Vista Visionary award for the second time. When you are working on many different tasks in different areas of the company at one time it can really feel like you aren't doing enough in any one area. Getting this award really shows that people notice when you are doing good work throughout all the different areas you have a hand in."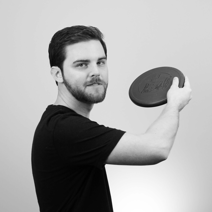 Ivan Ewing
Support Services Team Lead
1.5 years
Ivan has been with Vista for a year and a half, is from Pentwater MI and moved to Grand Rapids in June of 2018. He received his bachelor's degree in Digital Arts and Design from Full Sail University in Winter Park FL. Ivan helps with Product Assessment, training Boot Camp, SOP Creation, along with setting up and running our Vanguard Foundation Warranties. When not at work, Ivan enjoys traveling with his dog around to State Parks to take pictures with his camera and drone.