vi·sion·ar·y· noun · (from Latin "one who see") someone who is able to imagine how a thing should be and strives to make it so.
The Visionary is appointed by Vista each month as recognition for seeing a need in the organization and taking initiative to satisfy it without being prompted. This team member goes above and beyond their daily responsibilities and does so with an outstanding attitude. This month, Jason Welmerink our Technical Services Manager was nominated by our Technical Services Director, Rob Rowe.
"I nominated Jason because he is the embodiment of someone I want to work for. He puts customers and Vista "first" at every opportunity he gets. He is integral to "making it happen" here." – Rob Rowe
It's no secret, I come in here and I work hard. I come in on the weekends when I need to, and I stay late when I need to, I don't think twice about it. There is never a dull moment, I am always busy and there is always something going on, but I love it. Coffee and my coworkers are what help me get through the workday. Winning the visionary means that those late hours and those weekends I drove into work has all been worth it and I can't think of a more rewarding feeling.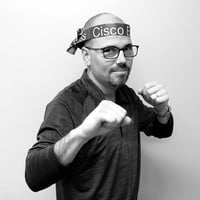 Jason Welmerink
Technical Services Manager
21 Years
Jason started with Vista in logistics in June of 1998. He moved to technical a year and a half later and in 2011 he was promoted to Technical Services Manager; he now he oversees our six technicians. Jason is from Rockford, MI, has two boys, a stepdaughter, and two grand kids. In his spare time Jason enjoys coaching wrestling, spending time with family, practicing wheelies and hole-shots on his dirt bike and throwing rocks off bridges.