vi·sion·ar·y· noun · (from Latin "one who see") someone who is able to imagine how a thing should be and strives to make it so.
The Visionary Award is appointed by Vista each month as recognition for seeing a need in the organization and taking initiative to satisfy it without being prompted. This team member goes above and beyond their daily responsibilities and does so with an outstanding attitude. This month, Mike Heffron our Technical Specialist was nominated by our President, Jeff Stevens.
"I've worked with Mike going on over 20 years. When we split off from our holding company and became an autonomous organization three years ago, Mike was regrettably not part of the migration team. Our goal has always been to try and re-unite him with the Vista family, but we only recently had the opportunity to do so. Mike's work ethic and craftsmanship is truly a gift to the organization. He took a big leap of faith coming to work here after being with his previous employer for so long. That kind of dedication, loyalty, and the confidence in his choice to come work for us once again, is truly "Visionary." – Jeff Stevens, President.
"Thank you, Vista. It's an honor to have been selected for this award! I've been working with a handful of the Vista employees for over 20 years now, and many others for 10+ years. By being recognized for this award, it lets me know that my coworkers are just as excited to have me back with the organization, as I am to be back! I'm looking forward to both rekindling some old relationships, as well as making some new ones." – Mike Heffron, Technical Specialist.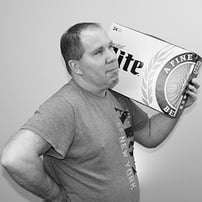 Mike Heffron
Technical Specialist
21 Years
Mike has been with Vista and its previous holding company for more than 21 years combined. As a technical specialist, he helps configure custom servers for our customers. He is from Grand Rapids where he lives with his wife and 14-year-old daughter. When not at Vista, Mike likes to spend time with his family, play golf, and watch sports. He's also been learning to play the guitar recently!