vi·sion·ar·y· noun · (from Latin "one who see") someone who is able to imagine how a thing should be and strives to make it so.
The Visionary is appointed by Vista each month as recognition for seeing a need in the organization and taking initiative to satisfy it without being prompted. This team member goes above and beyond their daily responsibilities and does so with an outstanding attitude. This month, Nick Alfano one of our Technicians was nominated by our President, Jeff Stevens and Jason Welmerink our Technical Services Manager.
"Nick has the phenomenal ability to prioritize workloads and be conscientious of what is going on in all of operations. He has profound technical knowledge and an ability to make his own decisions. He knows what is best for the company while distinguishing between customers, vendors, orders, and knowing what needs to get done. Picking up the slack and always working on more than one thing at a time is above and beyond, but Nick does this every single day. Way to go Nick-Wan- Kenobi Thank you for your hard work and effort." – Jason Welmerink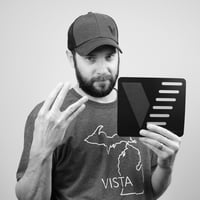 "Winning the Visionary means a lot to me and winning it for the 2nd time means I'm doing the right things to improve my role here at Vista."
Nick Alfano
Technician
2 Years
Nick started with Vista in the warehouse in 2011 but made the move to technical shortly after. He worked with us for a few years before moving to Chicago. He continued his technical career for three and half years in Illinois before returning to Grand Rapids where he picked up right where he left off at Vista. Nick and his wife Nataly have been married for six years and have two boys, Wesley and Lukas, and a dog named Leroy. While Nick is not immersing himself in the joys of computing, he works on cars, plays bass in a band, and attends as many concerts as he can.