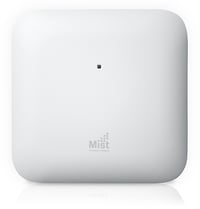 Recognized as a visionary in Gartner's Magic Quadrant for Wired and Wireless LAN Access Infrastructure in only two short years, Mist, a Juniper Networks company has brought to market a solution that is revolutionizing the way we think about how Wi-Fi should be done. Mist has built the first AI-driven Wireless LAN (WLAN), which makes Wi-Fi predictable, reliable, and measurable and enables scalable indoor location services like wayfinding, proximity messaging and asset visibility.
Qualify for a free Mist Access Point
Receive a free access point* when you attend one of Mist's weekly demos and let a Mist expert walk you through our award-winning platform. See how AI and the cloud make Wi-Fi more predictable, reliable, and measurable and enable new location services using virtual Bluetooth LE.
*Qualified end user customers only.