More and more companies are leaning toward a hybrid cloud approach in order to maintain control of on-premises resources while taking advantage of the flexibility of the cloud. It's a win-win situation, since newer applications and services can be supported in the cloud without sacrificing legacy applications. Here are a few things to consider while you're evaluating whether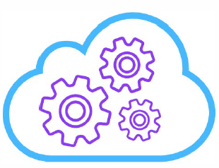 hybrid cloud is a viable option for your company.
1. Improved agility with cloud bursting
In a hybrid cloud infrastructure, cloud bursting allows access to additional computing resources when computing spikes occur. Rather than preparing in advance for computing spikes, with the public cloud, you only need to pay for what you use.
2. Shifted capex to opex
Shift upfront capex costs to ongoing opex costs and only use what you need.
3. Reduced management time
Fewer on-premises infrastructure alleviates pressure on your IT team by leveraging cloud automation and instant provisioning.
4. Streamlined disaster recovery
With a hybrid model, you are at a lower risk of data-loss as opposed to traditional storage models. It's possible to use private/public clouds as DR sites where apps are automatically protected across data centers and clouds.
5. Increased vendor lock-in
Moving to the cloud can be easy, but getting data and apps out can be tough. Understand the potential of locking yourself into undesirable cloud lock-in, especially with your data.
6. Potential for cloud auctions
The true potential of the cloud is the ability to move your workloads among clouds dynamically based on the best available price. This is possible today with the right orchestration and data management solution.
Hedvig Inc. can provide strategic recommendations for creating a hybrid cloud model that fits your company. Learn how we can avoid vendor lock-in and provide DR and data portability with your hybrid cloud. Contact us today to learn more!