The HPE 3PAR StoreServ platform has features, functionality, and expansion capabilities that will fit practically any size business and any use case. The foundation of the 3PAR architecture is the ASIC. This purpose-built ASIC off-loads much of the IO to improve performance and scalability. In addition to handling a bulk of the IO operations the ASIC also supports thin technologies, deduplication, cache mirroring, data integrity, and Fast RAID parity calculations for write and rebuild operations.
Another feature of the HPE 3PAR platform which sets it apart, is the Chunklet, which is an integral component of 3PAR's storage virtualization features. As drives are added to a 3PAR system, they are formatted into Chunklets, which in turn are handled like small individual virtual drives. These are grouped together to form logical disks, which can have different RAID levels, sparing policies, and more - all while residing on the same set of physical drives.
The Chunklet allows for other advanced features such as multi-functional SSDs, distributed sparing, wide striping, and requires no reservations for snapshotting.
When you combine the unique features of the ASIC and storage virtualization with industry-leading OS and software features such as Autonomic Policies, Federation, advanced Data Optimization, File Services, and Replication, it is no wonder IDC and Gartner put the 3PAR platform at the top of their list.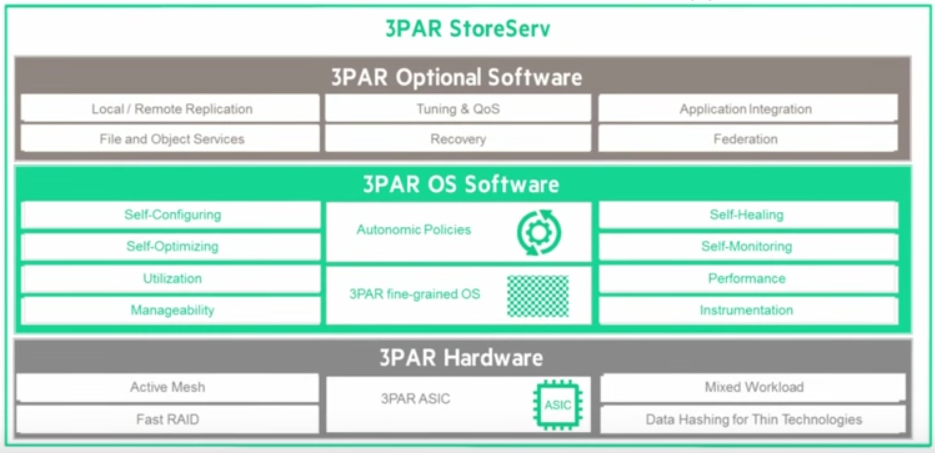 Shop HPE 3PAR StoreServ models here: https://vistaitgroup.com/products/hpe/hpe-storage/3par-storeserv.html