We are proud to announce Vista has been promoted to Gold Distributor status within HPE Replacement Parts Distribution Program. As one of only a handful of replacement parts distributors in the country, Vista is honored to receive this designation and pass along all the cost and efficiency benefits to our customers.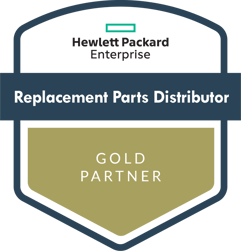 The HPE replacement parts program is intended to provide immediate access to high volume HPE warranted parts, options and accessories to customers, resellers and systems integrators. This is achieved by concentrating distribution efforts through a select group of business partners for the most common components in HPE's industry standard ProLiant servers, blades and networking product lines.
As an authorized Hewlett Packard Enterprise Replacement Parts Distributor, Vista IT is authorized to distribute and resell Certified HPE Genuine Replacement Parts throughout the United States. Learn more about HPE Replacement Parts on our HPE Replacement Parts landing page or Shop HPE Parts.