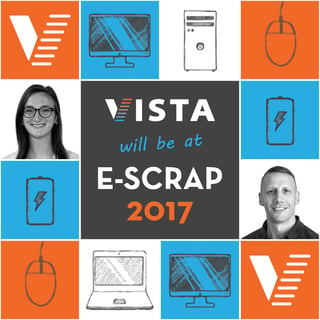 Attending E-Scrap 2017 in Orlando? Be sure to stop by the Vista IT Group booth #711 and meet Steve and Molly! They both specialize in asset recovery and will be handing out awesome swag and can help get you entered for your chance to win a $100 Visa gift card!
Vista focuses on reuse, the greenest form of recycling by purchasing decommissioned, surplus, unwanted, and unused datacenter equipment. Our Asset Recovery programs include cash, credit, consignment and profit sharing. We also offer drive erasure and disposal services to ensure data security. For more information of Vista's Asset Recovery program, visit our Asset Recovery page.

E-Scrap is North America's premier electronics recycling conference. It draws in more than 1,200 attendees and over 125 exhibitors. The conference will be held at the Omni Orlando Resort at ChampionsGate in Orlando, FL September 18-20. More information on the E-Scrap 2017 conference can be found by following the link: http://www.e-scrapconference.com/
Not registered? No problem. There's still time!