Heading to GrrCON 2018 in Grand Rapids? GrrCON is an info security hacking conference in the Midwest that draws over 1,500 attendees with various backgrounds including students, security researchers, industry professionals, hackers, and more. Be sure to stop by booth #43 to see Vista IT Group.
Vista is uniquely equipped with certified engineers, warehouse facilities, and logistics expertise. Our goal is to quickly adapt to meet the ever-changing technology needs of our customers. Vista's business model and core competencies in Data Center, Supply Chain, and Technology Services make this possible.
We will be showcasing our unique offering from Cisco, a giant in the technology security sector. Vista IT Group offers the complete line of Cisco Excess equipment. Cisco Excess is a specifically designated product suite offered by Cisco Systems so customers can purchase Cisco approved used equipment more efficiently.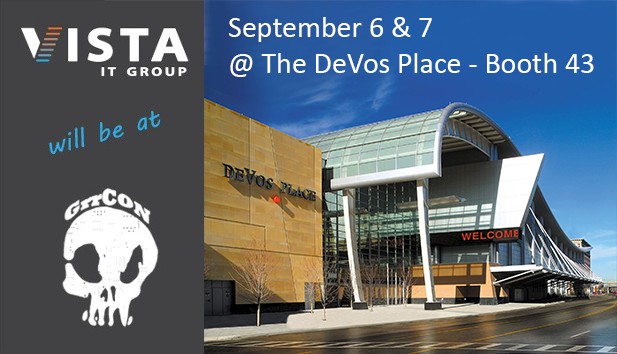 Of course, we will have the full complement of premium swag! Be sure to enter our drawing for a chance to win a prize of your choice. Whether it's an Apple watch or a pair of Klipsch wireless headphones, there is sure to be something for you!
The GrrCON Cyber Security Summit & Hacker Conference will take place at DeVos Place, in our home city of Grand Rapids, MI. This two-day conference will be held September 6-7,2018. Haven't registered? There's still time!