We are happy to announce the addition of Keith Rice, Ana Moreno, Mike Heffron and Phil Murray to the ever-expanding Vista IT Group team! Keith and Ana join us as our newest Warehouse Specialists, Mike is the newest addition to our technical team, and Phil will be helping customers with their infrastructure and technology needs as an Account Manager.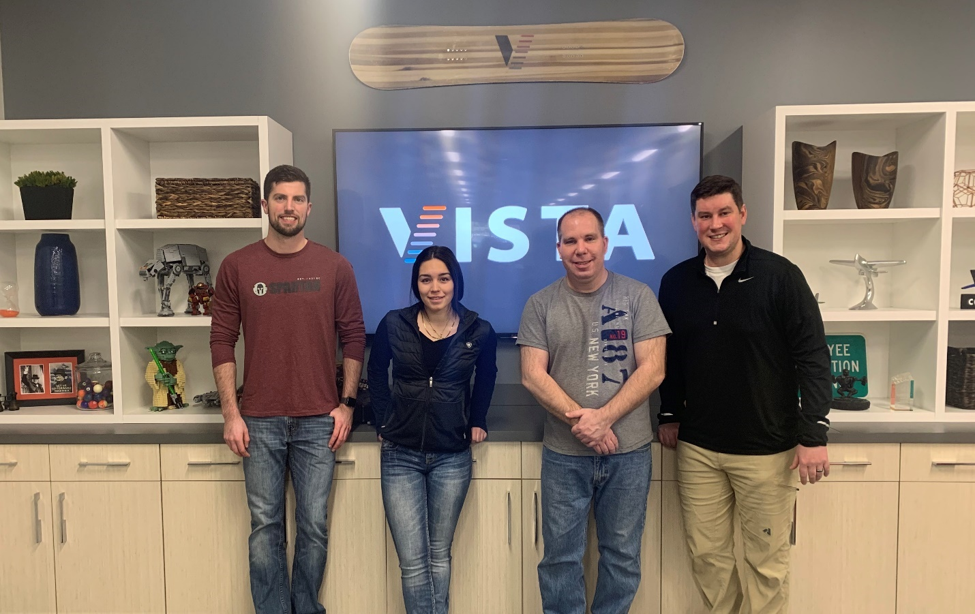 Keith was born and raised in Rochester Hills, MI. He graduated from Central Michigan University where he obtained his degree in Logistics and Marketing. In his spare time, Keith is a carpenter by trade and does home remodeling projects for himself or others and loves spending time outside.
Ana is from Lansing, MI and is currently a sophomore at GRCC where she is working to obtain a degree in IT Engineering. She previously worked in the equestrian retail industry where she handled order fulfillment and shipping. In her spare time, Ana likes to spend time outdoors, with her family, and her Pit bull, Titan.
Mike was born and raised in Grand Rapids, MI and comes to Vista with over 20 years of technical experience. In his spare time, Mike likes to spend time with his family, play golf and watch sports.
Phil was born in Portage, MI and moved to Grand Rapids to attend GVSU where he majored in Marketing and Management. After college, he moved to Nashville for four years before returning to Grand Rapids to start a family. Phil comes to Vista with over eight years of experience working in the IT industry. In his spare time, Phil likes to spend time with his wife and kids, watch sports and stay active.
Keith, Ana, Mike, and Phil all bring knowledge and experience that will help Vista continue to provide exceptional customer experiences and help us continue our high growth trajectory.
If you are interested in contributing to a world class culture, please submit your resume here: www.vistaitgroup.com/careers